From the brochure "Biji Surinder Kaur — Forever One"
Who am I? That Power knows.
All who got the human birth
form one cast (Religion),
there is only one Homeland.
All are the part of one Body of HIM.
— Biji Surinder Kaur
Biji Surinder Kaur was born in 1940 in the village of Bhawalpur in today's Pakistan, where she grew up with two brothers and three sisters. The name of her father was Katar Singh and that of her mother Paronie Kaur.
Her father was a noble and God-fearing person, who was dedicated to his country as a freedom fighter. To his daughter he gave following advice for life: "We were born into this world to live for and serve others without expecting any reward from the side of worldly people."
In 1961, her husband Dr Harbhajan Singh (Bhaji) met Sant Kirpal Singh and followed the Path; seeing him meditating, soon she became fully convinced that this was the right Path, and after six months, she accompanied Bhaji to Delhi to receive Initiation.
We have only one Purpose,
we came only in this world
to have Your Remembrance
and to get Your Intoxication.
There is no other Purpose.
— Biji Surinder Kaur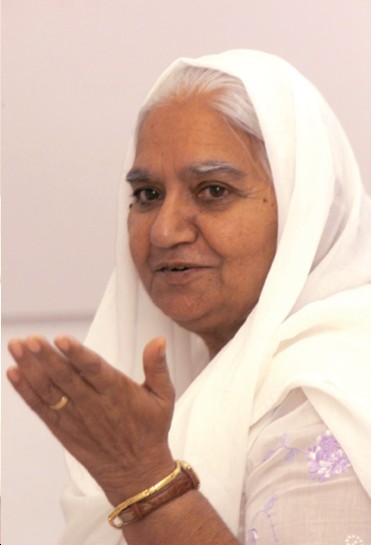 Very soon Biji became one of the most advanced disciples of Sant Kirpal Singh. From the very beginning, Master entrusted Bhaji and Biji with important duties which they accomplished hand in hand.
In 1971 Master fell seriously sick, He refused to take any medicine, since He had determined to go back. Biji said, she could give her life, but Master should not go.
But in 1974, the hardest time for Bhaji and Biji was approaching — the physical separation from their Master. After giving them many hints and instructing Bhaji how to continue the work as a true disciple, Kirpal Singh left His body on 21 August 1974, and Bhaji stayed at Master's side till the end.
Since then Bhaji and Biji worked ceaselessly to spread Master's Mission everywhere. In Summer 1976, they started in Germany and Austria, visiting us every year as Master directed. In 1980, the Headquarters for the West was started in Sankt Gilgen, Austria. Beginning with 1982, Bhaji and Biji committed all efforts to build up Kirpal Sagar in India according to Master's wish.
After Bhaji left his physical body on 25 September 1995, Biji continued the work which he used to do beforehand. Her special care was focused on the project Kirpal Sagar and the spiritual development of the Sangat.
Though love wants to ignore that nothing is lasting in this world, there is no exception to the rule, and we now have to face the separation from both of them. On 19th March 2016, Biji Surinder Kaur left her body in the hospital in Chandigarh.
In the heart of the Sangat, our beloved Master and His true disciples, Bhaji and Biji will live forever.
Love and happiness are filled with Master's Power.
The shop of Truth (God) is open.
This is the time, that one should become one
with Truth and Reality — this is the time now.
— Biji Surinder Kaur
---
You can read transcribed talks by Biji Surinder Kaur on following link below:
---
Read more:
---
Related pages: