Bhaji was able to comply with Master's commandment and
brought people from the different religions together.
He removed their doubts and brought them on one stage.
He did not only bring them on one stage,
but also told whatever was the wish of the Master.
He even brought some devotion in them,
means they could develop love for the Master.
He could unite them with the Master Power.
— Surinder Kaur
Dr Harbhajan Singh (Bhaji) was born on 10 December, 1932 in Laaylpur, India (now Pakistan). He met his Master Sant Kirpal Singh in 1961 and became His beloved disciple, doctor, and confident. Sant Kirpal Singh lovably called him "God's doctor" and, at the end of His tenure, asked him to stay at His side when He left His body in 1974.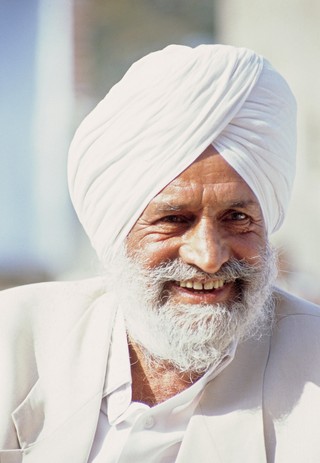 Commissioned by Sant Kirpal Singh to carry on His Mission, Dr Harbhajan Singh refused to be regarded as Master, he worked as a perfect disciple who is fully absorbed in his Master. He used to say,
"There is only one Master of the whole humanity —
this is the God Power himself, and I am His borrowed servant".
He had a unique way to explain the teaching. He was teacher, brother and friend of all, and with his warm-hearted nature won over the hearts. Everybody was allowed to call him "Bhaji" – "Brother". His practical life showed, what spirituality means. He impersonated the attributes of a true human being: Truth and consciousness, love and compassion, selflessness and humility. Young and old, rich or poor he treated equally, saying, "I am the servant of the souls".
In 1976, Dr Harbhajan Singh came with his wife Biji Surinder Kaur ('Biji' means 'mother') for the first time to the West to convey the instructions of Sant Kirpal Singh to his fellow disciples. And started to give lectures in different European countries. He spoke about Spirituality as the essence of all religions and clearly explained the difference between Spirituality and the countless esoteric teachings which just found their market.
Due to his untiring efforts the movement Unity of Man began to spread on international level, and in Austria near Salzburg the Headquarters for the West was brought up.
A special phase was marked in 1982, when the foundation-stone of Kirpal Sagar was laid and the construction work started. Kirpal Sagar is a project dedicated to man-making and man-service, aiming to enable man to develop physically, socially, ethically and spiritually. From then onward Kirpal Sagar remained the central focus of Dr Harbhajan Singhs work, and according to the wish of Sant Kirpal Singh, has been developed as a platform for all human beings to come together in the name of God.
During his visits to the West Dr Harbhajan Singh met renowned personalities of public life, to whom he explained Spirituality as practical solution to the present problems of our world. In 1993 he represented Unity of Man as a Non-Governmental Organisation (NGO) at the Conference on Human Rights at Vienna. Dr Harbhajan Singh had the privilege to address the plenary session at the state conference (read transcript "There is only one solution").
In the same year preparations were culminating for a World Conference on Unity of Man at Kirpal Sagar. This conference took place on 3-6 February 1994, the 100th birth anniversary of Sant Kirpal Singh. Guests from all over the world took part. Personalities of various religions, politics, culture and science from far and wide spoke to an audience of thousands of people from all walks of life.
In 1995 Dr Harbhajan Singh had advanced the work so much so that the main facilities of Kirpal Sagar were ready by end of summer, just before he left his body on 25 September, 1995 in Ludhiana. Until his last moments he thought of Kirpal Sagar. He had often said, "Kirpal Sagar is my heart" and had dedicated his whole life for it.
Whenever anybody asked Bhaji, "Do you need anything?"
He answered, "For myself I do not need anything,
but I need such a dress for Kirpal Sagar, which will never end.
Kirpal Sagar is my heart, if you love me
you should have the respect and love for this place."
— Biji Surinder Kaur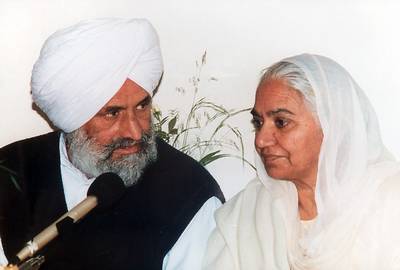 Biji had ever worked side by side with Dr Harbhajan Singh with full commitment and after Bhaji left the body, the responsibility — not just for the outer tasks, but also for the spiritual guidance was on her shoulders. Directed by her, Kirpal Sagar has developed into a blooming garden of spirituality, and further Centres have been created in India and abroad.
In December 2007, the 75th birthday of Dr Harbhajan Singh and the 25th Jubilee of Kirpal Sagar was celebrated with a unique event – the inauguration of the Symbols. Side by side they demonstrate that man-body is the true temple of God, in which we can realize Him. They are radiating the message of unity and the same applies to the life and teachings of Dr Harbhajan Singh and Biji Surinder Kaur.
You can find books, messages and transcribed talks by Dr Harbhajan Singh by following the links below:
---
Read more:
---
Related pages: