Sant Kirpal Singh said about "Seva", selfless service:
"To serve selflessly was my inner desire.
I did the work out of this inner desire —
with full love and concentration.
I took Seva as Bhakti (devotion).
Seva was my Bhakti, my way of devotion,
my meditation."
— Biji Surinder Kaur
(From "Biji Surinder Kaur — Forever One")
Selfless service exceeds all virtues.
Selfless service overcomes the wishes.
Selfless service develops the spirit on the way back to God.
Selfless service clears the tentacles of the three worlds.
Selfless service develops humility and humanity.
Selfless service helps to know the cause and effect of the world.
Selfless service is blessed with right understanding.
Selfless service develops us as Conscious Co-worker of the Divine Plan.
— Dr Harbhajan Singh
---
The man rewards himself by doing good or bad and has to bear upon himself. The reaction of both, (bad) and good doing, affect the man, but still one is bound in the iron or golden chain.
With iron chains one cries for happiness,
and with golden chains one creates more wishes
and is bound with attachment and ego.

Selfless service unto others is service to God
and service to God is the service
unto the devotion to the Master.
Selfless service demands no reward,
but the Master Power rewards the soul
with eternal life.
— Dr Harbhajan Singh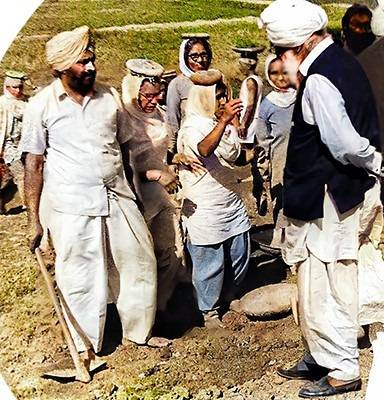 Those who wish reward for their services, their selfless services are finished. Selfless services mean rewardless services unto HIM, with whom one has to become one by doing unto HIM.
Do and forget as you have not done, but your Master in you has helped you to do. His help was for the development of your soul.
He, who is affected with ego by doing services unto the Master, he nullifies the services, and credits the negative power.
If you determine to do selfless service, you must do and you will be credited. If for any reason you don't do, it will discredit the Master and credits the negative power, since your determination to do is witnessed both by negative power and Positive.
Negative power will create hindrances to comply with, whereas Positive Power helps you to do. In case you did not do, the negative power is credited and Positive Power is discredited. Those who put their head and heart win the game.
(from "Forever III" by Dr Harbhajan Singh)
---
Read more:
---
Related pages: