Chapter from book "Forever with Master, vol. 1" by Dr Harbhajan Singh
Three meetings were held, the last one on Christmas Day (December 25, 1973) to organize the Unity of Man Conference on the birthday of the Master. All duties were distributed and all arrangements were made.
The Unity of Man Conference commenced on February 3, 1974 under the sponsorship of Sant Kirpal Singh Ji Maharaj and ended on February 6, 1974.
Religious, political and social leaders from all over India and some hundred delegates from all over the world, nearly from 30 countries, participated in the conference.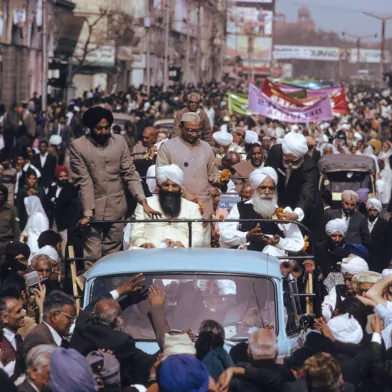 A big procession started from Gandhi Grounds marching through the main streets and ended in Ramlila Grounds, the place where the Conference was held.
Sh. G. S. Pathak, the Vice President of India, performed the opening ceremony. Smt Indira Gandhi, the Prime Minister of India at that time, and foreign Minister Shri Swarn Singh, Shri Jagjiwan Ram, the Defence Minister, Dr. Karan Singh, and besides many members of parliament and social leaders, Shri Kaka Kalelkar and Raja Mohinder Partap Singh participated in the conference.